Welcome to Amelia East Family Dentistry
Caring and Comprehensive Dentistry For Total Body Health
Amelia East Family Dentistry specializes in caring, comprehensive general dentistry, provided by a highly educated staff focused on your oral and overall health. Our passionate team provides personalized patient care using the latest technology in a comfortable environment for the entire family.
The health and appearance of your smile can impact both your overall well-being as well as your outlook. A smile that is beautiful to look at and in top condition enhances your quality of life and is a source of self-esteem. At Amelia East Family Dentistry, a general dentist in Amelia, we take great pride in offering the latest technology and the most comfortable solutions for taking care of your smile.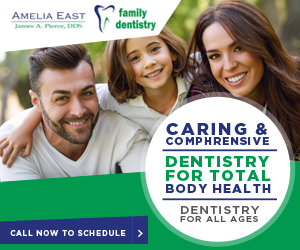 At our state-of-the-art facility, we provide the most comprehensive array of cosmetic, restorative, and preventive dental procedures available today. Our extensive selection of dental treatments is designed to meet all of your dental needs, as well as those of every member of your family. Thank you for choosing us as your dentist in Amelia.
Office Hours
Monday:
7 am - 5 pm
Tuesday:
7 am - 6 pm
Wednesday:
7 am - 6 pm
Thursday:
6 am - 6 pm
Friday:
9 am - 2 pm
Contact Us
Our Office
Some of our Services